It looks as if a young Alfred was abducted by a thirteen-year-old Jack Napier and after all these years Alfred, hanging on a coat-hanger, with a white face and cheap Halloween make-up, hovers around random houses that have an 8MM camera and spools lying in a trunk somewhere, with shiny spider spittle all around it, making it look ancient; somewhere in the attic of the house, or the basement; in this case.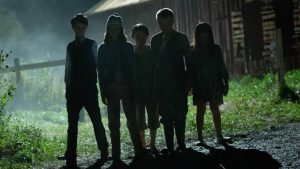 The first film with Ethan Hawke as a writer on the edge and director Scott Derrickson focused more on the investigative narrative and the cans of spool that Oswalt stumbles upon. Ellison Oswalt (Hawke) discovers the ghastly snuff tapes, unable to figure out who shot those. Sinister, 2012 employed a relatively new concept of being haunted by celluloid that takes away the innocence of children, before it takes them away, too.
Sinister 2 is highly atmospheric, creepy, it offers fresh diabolical twists and above all it jumps directly to the horror of Sinister, not bothering with keeping records, maintaining files, managing power of the laptop. Nope, that does not exist here. Derrickson throws us in to the deep from the get-go and it gets plenty uneasy from there, especially when as we watch Oswalt being pulled into the mystery of the spools and what they show. The films most scary and intriguing parts are the ones when Oswalt is shown sitting alone with a can of tape being played on the white sheet, he is repulsed by what he sees but he can't stop watching.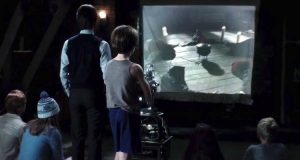 The sequel is even darker, undeniably scary, isolated with contemporary horror tropes made obsolete by what the film has to offer, like visitations by a young Ozymandias from The Watchmen, 2009, among other raccoon-eyed, grey-colored kids. The little brother, Dylan Collins (Robert Daniel Sloan) is later joined by a group of dead children who slaughtered their families after watching the films. Or perhaps the films were watching them?
Here, this is mine" .

– One of the dead kids before putting on film titled 'Sunday Service'
From the very beginning we are treated to some genuinely frightening kills. Sinister 2 is innovative in showing the annihilation of innocence in the most harrowing manner. The rats scene should make Mou Tun-fei (Men Behind the Sun, 1989) very proud.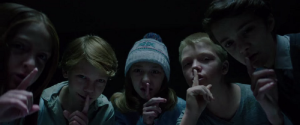 With torture methods picked directly from the history of the Dark Ages, the Medieval Times, and the torture techniques used back then, some scenes become hard to watch and the film rises a little but settles down quickly as we return to the domestic/legal scuffle. Shannyn Sossamon is more scared of her ex-husband rather than the Floating Alfred in a tux. And for good reasons.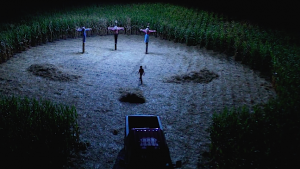 James Ransone as ex-Deputy So & So is back and burning houses all over Illinois and has been successful in getting away with arson all these years, plus he is also getting away with not having a real job for all these years. I'm happy Sinister 2 hired him again. Actor Ransone is a rather agreeable presence who relays the trepidation fully to the audience and to the Collins' family; who treat him not as a warning but as someone who is sent to them in their times of hardship. Well, that is true to an extent, however, Missus Collins could have taken the non-serious-faced ex-deputy a little more seriously.
Do not leave this house."

That's one confusing line for a film about haunted houses. Nevertheless, the reasons are deliberated upon earlier. Everything is covered as far as I could see.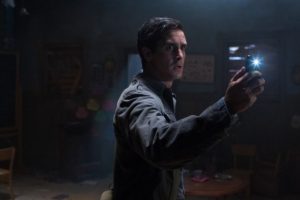 While Sinister, 2012 had dark revelations, this one is stronger on mood than story. The non-fiction author's mammoth research and his return to whiskey after watching what he watched and Ethan Hawke trying to take it down in so many ways, Sinister 2 is frenzied, frantic, in-your-face, which manages to inspire moments of palpable dread in a full-blown horror film with a lovely twist in the end and truly terrifying kills that actually get a reaction out of its viewers.
The Sinister Franchise (if there is such a thing) now consists of a lovely film from 2012 followed by a pretty decent sequel that scares plenty. Plus the 8MM films are a treat to watch.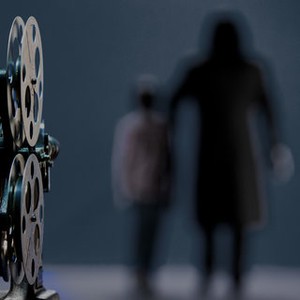 No, really.
---
Please follow and like us: